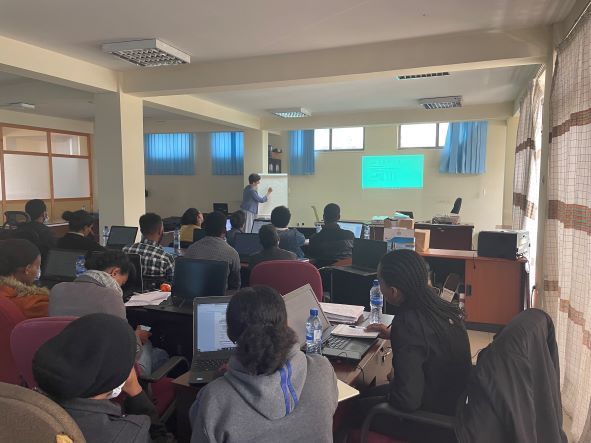 Training Implemented to Enhance the Research Skills of Ethiopian Counterparts
2022.10.15
Shoko Yamada
アフリカ
The SKY project receives JICA's grassroots support fund to implement a program titled "Skills assessment and development of the training programs to mitigate the skills gaps in the small- and micro-enterprises," between January 2021 and September 2023. Under this scheme, in collaboration with the Kaizen Excellency Center in Ethiopia, we are preparing to conduct a skills assessment and soft-skills training for SME workers in the garment sector. While the direct target of the program is workers, we are also providing capacity building and system development support for the staff of KEC, the local counterpart, to ensure successful implementation of the program and to enable them to continue their activities after the SKY project support ends.
Two SKY project staff members traveled to Ethiopia from August 21 to September 4, 2022. Besides preparation for the SME workers' skills assessment and training which will begin in October, we conducted a two-day training to build the capacity of KEC staff on research design, implementation, and analysis. On the first day, we taught the concept and procedures of research planning, data collection, selection of analytical methods, sampling, etc. The second day was dedicated to teaching practical skills of statistical analysis of quantitative data collected through questionnaires using STATA software. About 30 people participated in this training program, mainly from KEC's research department, but also including staff engaged in kaizen extension activities in the garment production, agricultural, and service industries.
The counterpart training was conducted in response to the demands from KEC staff to receive guidance on research methods, especially statistical analysis. One of the KEC staff members who participated in the counterpart training was a new research staff member who stated, "I have never done research before, so learning the basics of research design was very helpful for my future research." Another staff member who has been engaged in the project for several years expressed his enthusiasm for future research, saying, "Now that I have learned about statistical analysis in concrete terms, I would like to consider the impact of kaizen not only in Ethiopia but in other African countries as well."
We hope that this capacity-building training will stimulate the research activities of KEC staff and that the data obtained through this project will be analyzed not only by the SKY project members for academic purposes but also by local counterparts for policymaking and industrial promotion in Ethiopia.
We are currently finalizing the modules for SME workers' skills assessment and game-based soft skills training whose implementation will start in mid-October. The effectiveness of the training intervention will be demonstrated through the quasi-experimental design of the research. We will keep updating on these developments of SKY project activities.