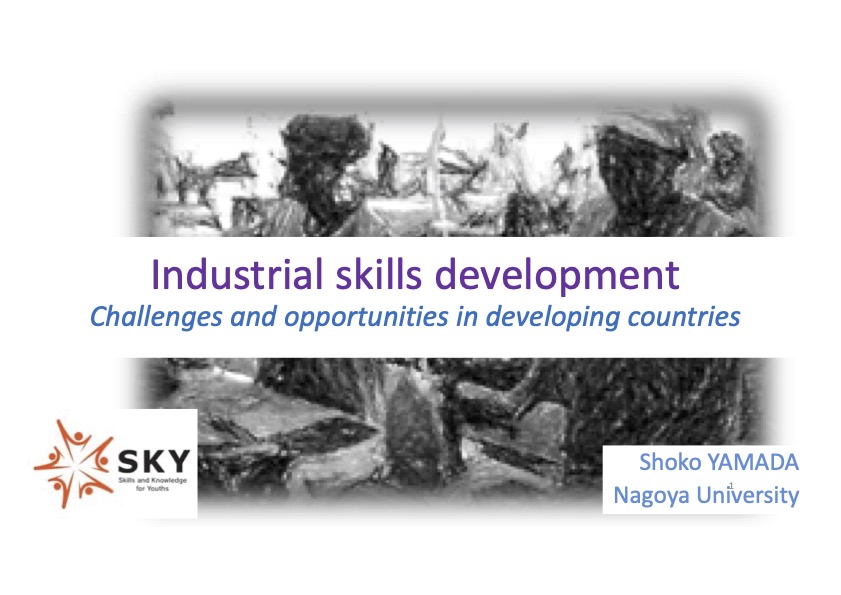 Keynote speech by Dr. Shoko Yamada at UNIDO-Japan Cooperation Webinar Series "Joining Forces for Industrial Skills Development"
2021.08.06
Yujiro Yamazaki
East Asia
On Wednesday, July 1, 2021, the United Nations Industrial Development Organization (UNIDO) and the Permanent Mission of Japan to the International Organizations in Vienna co-hosted the online webinar " Joining Forces for Industrial Skills Development." This event was the second in the series "Partnering for ISID: New challenges and opportunities for the UNIDO-Japan cooperation."
The webinar had speakers from the public and private sectors, development partners, academia, and civil society to exchange views on industrial human resource development.
In this webinar, Dr. Shoko Yamada, SKY project leader, gave a keynote speech. In her keynote speech, she presented the challenges and possibilities of industrial skills development in developing countries, including the importance of industrial skills development, what skills are needed for work, and why skills gaps occur.
The report of this webinar is available on the UNIDO website. Please refer to the following URL.
http://www.unido.or.jp/en/outcome/seminars_events/8810/