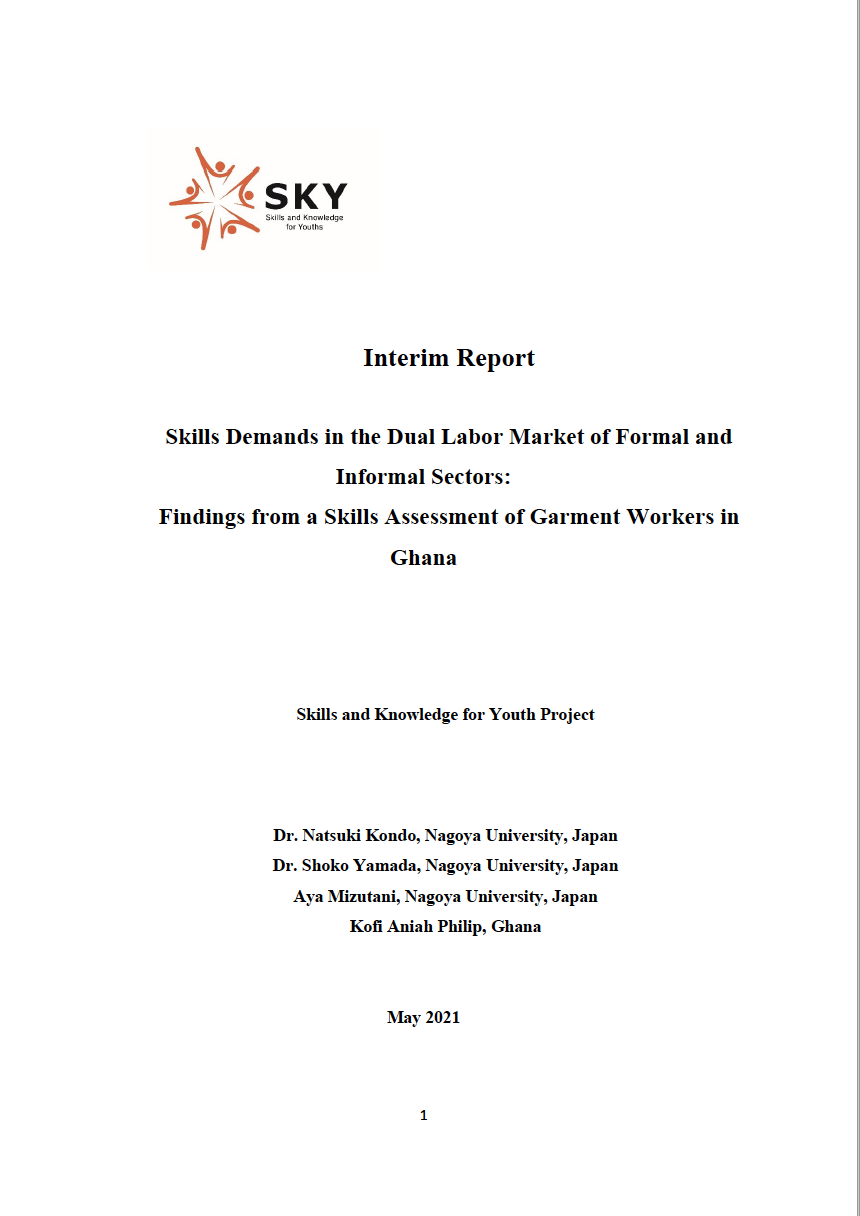 Introduction of Ghana Interim Report
2021.05.14
Natsuki Kondo
アフリカ
The SKY Project Ghana Interim Report is now released.
The following is an introduction to the report.
This report presents an analysis of SKY skills assessments conducted for two sewing firms, four TVET institutions, and the informal sector workers in Ghana from 2019 to 2020.
The analysis covers the following four major areas.
(1) Analysis of the compositions of skills (how cognitive and non-cognitive skills affect performance, and how these skills affect each other)
(2) Gaps in perceptions among stakeholders regarding "what kind of skills are important in the workplace."
(3) Comparative analysis of the formal and informal sectors (cognitive and non-cognitive skills, relationship between skills and salary)
(4) Factors influencing the career plans of TVET institution students (socioeconomic background and subjective factors)
What we found from each analysis:
(1) We found a positive relationship between theoretical knowledge and practical skills. Non-cognitive skills (attitudinal skills and personality traits) contribute to both cognitive skills and practical skills. In addition, "metacognition" about one's abilities contributes to better practical skills, suggesting the importance of feedback in the skill formation process.
(2) From the questionnaire, it was found that employers expect workers to judge the situation and act on their own at the workplace. In contrast, students and workers tend to place more importance on following instructions. It can be inferred that there is a perception gap between employers and job seekers regarding autonomous behavior in the workplace.
(3) When we compared the high and low salary groups both in the informal and formal sectors, we found that regardless of the sector, the high salary group scored higher on "decision-making" and the low salary group scored lower on "hostility". Some of the characteristics found in the high and low salary groups differed by sector. We need to investigate further how the difference relates to the structure of each sector.
(4) In addition, we found that students' confidence in their own skills influenced whether they would become self-employed or factory workers. The availability of information on the skills required in each workplace and where to acquire such skills is likely to impact career planning and job matching significantly.
As mentioned above, the complexity of "skills" themselves and the variety of options in skills formation will require better collaboration among stakeholders and flexible policies to promote such cooperation.
For details of the report, click here (SKY Publication Page)