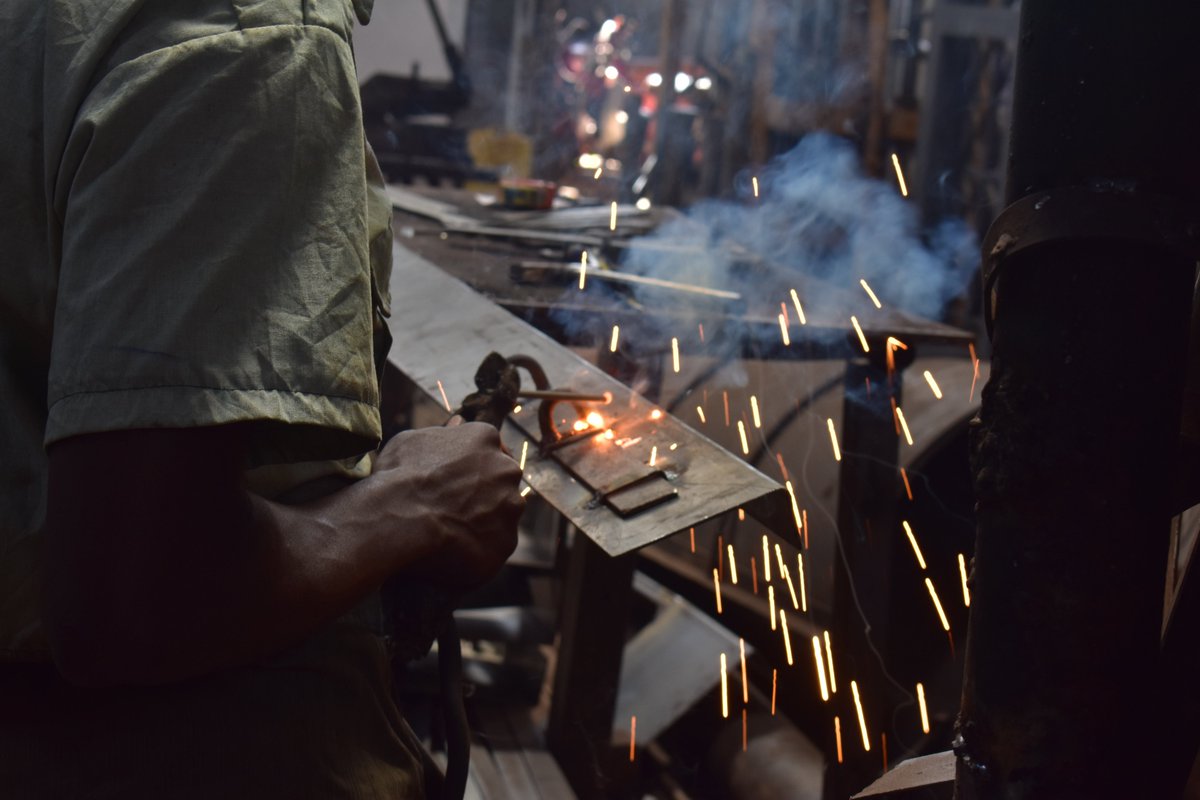 Although the novel coronavirus spread of infection in each African country has been delayed compared to other regions, the infection continues to spread even now in the Africa continent. To prevent the spread of infection, African countries are thoroughly implementing urban lockdowns, border blockades, transport restrictions, and ensuring hygiene. With economic activities not functioning as they have been and declining workers' incomes, it is now being questioned how to recover economic activities. Particularly in African countries, the majority of workers are in the informal sector, which is not well controlled by the government.
The urban informal sector, which mainly engages in street vendors, the garment industry, and metalwork, had no opportunity to work due to the city lockdown and workers were forced to cut off their income sources. After the lockdowns were relaxed, many informal sectors are carrying out economic activities in crowded and crowded spaces, which makes it difficult to ensure social distancing. Additionally, it has become difficult to purchase electronic products, cosmetics, and metal parts which are used as materials from China due to the transport restrictions under the COVID-19 (ILO 2020). Moreover, since the method of skills formation is mainly by apprenticeship and on-the-job training in the informal sector, a key premise of skills formation is that a space must be shared and it is difficult to shift to distance learning. Therefore, it is crucial to restart work in workplaces which secure a place for skill formation.
Currently, to recover the situation of negatively impacted economic activities, transport restrictions, and opportunities for skills formation, African countries are seeking procedures to ensure access to workplace and skills formation. Bosio and Djankov (2020) pointed out that cash transfer could be an immediate cure for people in the informal sector, who are living in poverty under the pandemic. Indeed, in Kenya, the Kenya National Chamber Commerce and Industry (KNCCI) and the Mastercard Foundation are working together to encourage workers in the informal sector to make cash transfers and keep their businesses up and running (Mwazighe 2020). The benefits of cash transfer have enabled small and medium-sized enterprises in the cities to recover operations. On the other hand, as a condition of receipt, each micro-enterprise must apply for registration to the government and take steps for formalization. There are other cases of managing the informal sector by such registration under the pandemic. Ugandan motorcycle taxis celled boda-boda are forced to resister drivers, make a list of passengers, and wear helmets in order to carry out the bike taxi business. Although those restrictions have been difficult to enforce to drivers before, the pandemic made it easier for all (Daily Monitor 2020, 07, 21).
Since economic activities and skill formation in the informal sector were established assuming the existence of a physical location where people face each other, the workers who are engaged in these processes are acting to secure safe locations.  On the other hand, some have questioned the promotion of management through formalization, ignoring the realities of the flexible informal sector and other factors that have been discussed in recent years. Weber (2015) points out that it is necessary to understand that while control by formalization has advantages, it also has drawbacks such as increasing the economic burden on workers. In the current spread of COVID-19, it is important to ensure inclusive systems and protect people's lives, but on the other hand, it is necessary to reconsider why formalization could not be easily realized until now. Additionally, in terms of skills formation, it is necessary to consider why sharing the same space was required for apprenticeship and on the job training in the informal sector.
References
Basio, E. and Djankov, S. (2020) When economic informality is high, cash transfers may be the best Covid response. London School of Economics and Political Science Blog. https://blogs.lse.ac.uk/businessreview/2020/05/19/when-economic-informality-is-high-cash-transfers-may-be-the-best-covid-response/
Daily Monitor (2020, 07, 21) Arcades, salons, boda bodas riders to resume operations. Daily Monitor. https://www.monitor.co.ug/News/National/Museveni-arcades-salons-boda-bodas-operate-COVID19/688334-5597120-waxtruz/index.html
International Labour Organization (2020) The impact of COVID-19 on the informal economy in Africa and the related policy responses. ILO Policy Brief. Geneva, ILO.
Mwazighe, A. (2020) Trade lobby KNCCI sets up Covid rescue plan for SMEs. Daily Nation. https://www.nation.co.ke/kenya/business/kncci-sets-up-covid-rescue-plan-1917666
Weber, M. (2015) Measuring disincentives to formal work. IZA World of Labor 2015: 213.